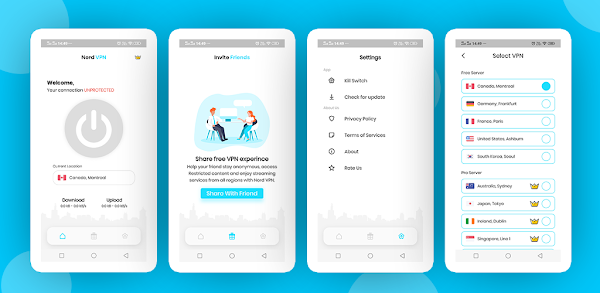 Nerd VPN
Provides VPN services for users with free and premium subscription features without register and login,
There is Web admin so you can easily determine which server is targeted to a specific user status.
The application is connected with openvpn configuration, so you can get it from across the internet (I
don't recommend it) or create it with available services .
Don't worry if you got any struggles, i will be happy to guide you until your vpn apps running and ready to deploy!
Only supported for android
What you'll get :

Mobile source code
Web Admin & API (Laravel)
Free (with test ads) & Premium apks
Docs
Redesign Service?
If you need help to redisgn the app, you can contact me at nizwar@merahputih.id or nizwar.merahputih@gmail.com
Features :

Appbundle build supported
In App Purchases (Subscription) without login / register
With admin,
Admob friendly
Firebase Analytics & Crashlytics
Appbundle build supported
Clean codes
Easy to redesign
Using provider's state management
Admin Panel Demo :
[NEWS]
IOS Support :
I'm working on IOS Support, i will update the source code after got approved on Appstore.
All you need to know about IOS Support :
There is no subscription feature.
IOS features will not be same as Android because some reasons (including privacy, apple payment, etc).
IOS Project will be seperated with Android, i do this because there is something different between them, and i hope i can merge them into one version soon
When its available, i'll increase the price to $80, so grab it before its too late!
Changelog
Version 4.0 [Coming Soon]
IOS Support
Fully Rewrite Instruction and add some Details
Animation here… Animation there
Version 3.1
Flutter latest version supported
Rewrite Instruction
Fix Bugs
Version 3.0
Admin panel updated (faster to manage)
Multilanguage
Mobile Server's Pagination
Optimize Admin & Mobile
Version 2.2
Whitelist app
Admob Safety (Bypassed IP)
Private guide
Version 2.1 [2 Oct 2020]
Version 2.0 [1 Oct 2020]
Make mobile setup super easy
Fix API source code
Provide admin demo
Version 1.2 [30 Sept 2020]
Fix Admin Web BUG
Simple setup's Video Tutorial (LINK inside instructions.doc)
Remove apks but you still can access it inside Video instruction's link
Version 1.0 [29 Sept 2020]
Clients app (already ask for permission) :